This past Saturday I attended this....
Rock Scissor Paper
. Heidi and Susie Bauer, the owners of Rock Scissor Paper have been in the stationery business for 15 years. I've been a fan of their work for the last 7 years. I discovered and fell in love with their stationery on one of my trips to L.A. before I moved here.
Lala Press Letterpress Studio
in Atwater Village. It's an impressive space with a gorgeous garden. The studio itself has several letterpress printers.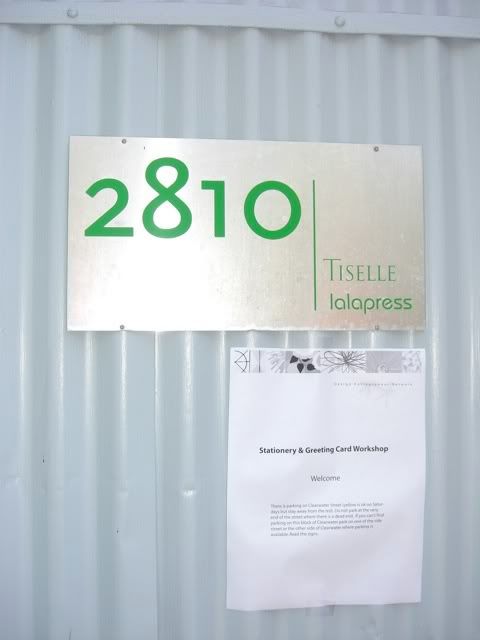 There were approximately 36 of us in attendance. All of us are in various stages of launching or maintaining stationery-related businesses. I hate to admit it, but I did a poor job of meeting people and networking. So, I'm not entirely sure of everyone's exact background in this industry. (Note to self, do a better job of meeting people at workshops.)
When we checked in, we were given these cute name badges made by Heidi and Susie.
The outline gives you an idea of the topics we covered. I wasn't sure what to expect. Sometimes, workshops are useful. Other times, they are a gigantic waste of time. This was definitely a highly informative and entertaining experience. If anything, I was a tad bit overwhelmed. They had so much information to share and were so enthusiastic about educating and helping up-and-comers. (This, sadly, is a rarity in creative industries.) There were moments where I could scarcely keep up. Thankfully, we were also given information packets. I swear these things are worth double their weight in gold. If I had to rely strictly on my chicken scratch notes, I'd be lost.
At the end of the day, I came away with so much information and a better sense of where I might fit in this industry. It also gave me a better sense of what I need to do for myself and my business. All in all, it was the best $200 I've ever spent.