After assisting Paola with Leann & Geoff's wedding, I dashed home. I got home with enough time to catch a power nap and change my clothes. I was off to my second wedding of the day. Thankfully, this time I was a guest. I was graciously invited to the wedding of Daniella & Josue. I had designed their
wedding invitations
. I had also become friends with Daniella over the course of a year. She was one of the first knotties I had met in person.
Daniella and Josue made many sacrifices and budgeted very carefully to allow them to invite all of their friends and family. Their guest list was in the 200+ range. Daniella and her mother did many DIY projects to give the wedding a very personal touch.
The ceremony & reception was held at the Westridge Golf Club in La Habra. As I rushed to get to the ceremony, I second-guessed taking the power nap. I was cursed with getting stuck in the infamous L.A./O.C. bottleneck that occurs on the 5 Freeway. This made me "that jerk". You know, the one that shows up late for the ceremony. Thankfully, I had only missed the introductory words. I was there for the majority of the ceremony. I stood in the back. I am certain that I am a sap because I got misty-eyed while they were reciting their vows and exchanging rings. In my defense, it was a very beautiful ceremony in which the vows were mostly traditional, but tinged with a bit of humor.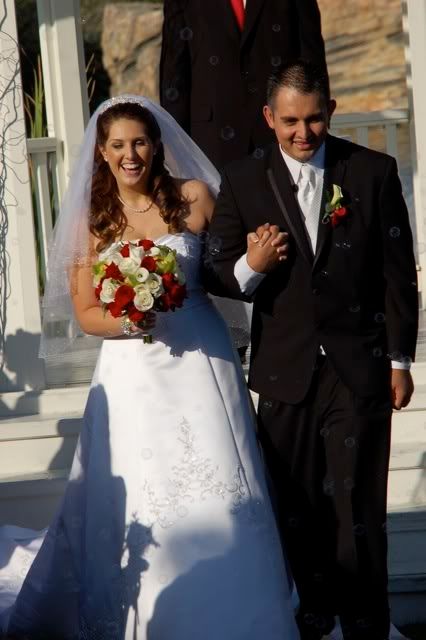 Mr. & Mrs. E - Daniella & Josue.


After the ceremony, I caught up with the 3 other knotties that Daniella had befriended and invited as well. The hors d'oeuvres were delicious. We spent the majority of the cocktail hour oohing and aahing over all the little details that Daniella and her mother had put together.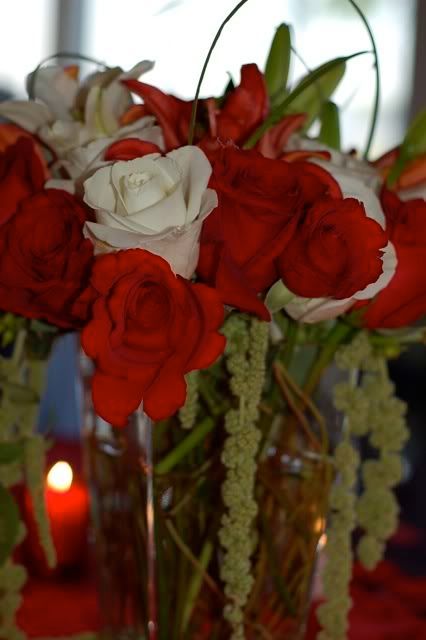 Centerpiece
If I could use one word to describe the whole event it would be "heartfelt". Daniella & Josue had smiles that could light up an entire city. Their family and bridal party looked equally happy. The reception was filled with many tributes to the bride, groom and their many friends and family in attendance. They even included a "knottie GTG" picture in their slideshow.
As a side note, I am a gluttonous pig. I enjoyed both buffets - dinner and candy. I don't think I will ever tire of candy buffets. Because of my action-packed day and the long drive I had ahead of me, I left the reception a tad bit early. Either way, I had a good time.